hey guys! I'm making my first review now! Well this game might be old, but gold. It is Harvest Moon : Boy and Girl! This game is available on PSP and it resembles (even I think it's just a console difference) as Harvest Moon : Back to Nature (PS1)
these are the marriage candidates.
It might be identical to the PS1 version, but in this one we can choose whether to play with a boy character or a girl character and that, of course, will affect the marriage candidates.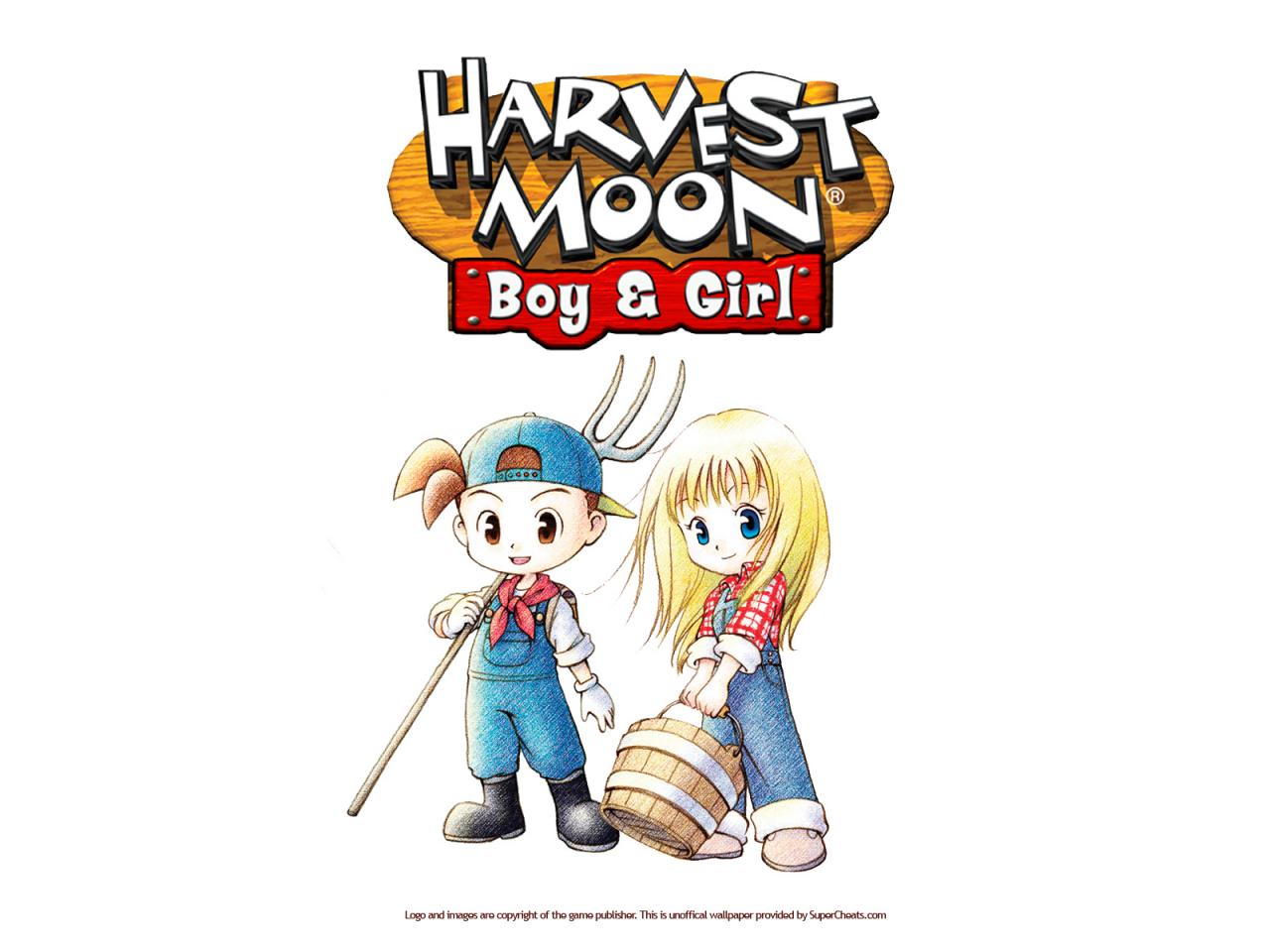 these are the two playable characters.
I personally played as both character, the boy and the girl and I think being a girl on this game is harder because you should wait for a proposal where as a boy you could just propose right away when you already fulfill all requirements.
While being a boy, (named Andy, and it's not Toy Story inspired, lol) I choose Karen as a marriage candidate, and I marry her quite quick (about Spring Year 2) after working hard upgrading houses and tools while buying lots and lots of wine (Karen loves wine! ;)) Already got a child yeah!
Being a girl… is a tough one. Like choosing which bachelor to marry isn't hard enough already. I can't choose between Cliff and Gray (as I told you on the Favorite Character tab)! They both are cute and sweet on their own way ❤ So, I decided to play this game 2 times!
Both named Eclair (I don't know why but I just love that name, but then I realised that it's an anagram of Claire, which is the official name for the girl character) and I pursue Cliff first, his heart is red already, all requirements are fulfilled except one. THE red heart event, which is essential for a proposal event. And on the other slot, Gray is in yellow heart but the bad news is…
MY MEMORY CARD IS CORRUPTED WHILE UPGRADING THE PSP VERSION. WITH NO BACKUPS.
Yay me! :_( But I don't lose my determination to marry them, so I am currently playing this game again!
Review :
Storyline : red heart. (Amazing)
What did you expect from a Harvest Moon game? Of course the main story is simple, keep the farm alive and build a good relationship with others. BUT that is why Harvest Moon amazing. And you can trust Harvest Moon to make everything, every events, looks cute. ESPECIALLY, the heart events, which is counted as the storyline… right?
Gameplay :  yellow heart. (Great)
And again, what did you expect from a Harvest Moon game? Of course it's all about farming and relationship and mining and fishing and cooking, but it never gets boring. (at least for me) If you're like me, who loves a game full of routines and things, then again, you'll love this!
Presentation : yellow heart. (Great)
Some people might not like the angle from which the game is taken, and some people might complain of it's 3D-y look, but I personally love it. Might be biased, but which review doesn't? lol. The sprites and the pictures of the characters while talking are great, in my opinion, and I love the songs so much! 🙂
Verdict : LOVEEEEE<3
Screenshots : (not mine, I don't know how to screenshot:()
{APR}